Designed and Industrialised for Construction in all Environments
THE ONLY SOLUTION TO ELIMINATE CORROSION, RUST, ROT, OSMOSIS ON LAND, SEA OR WATER.
Plaztuff™ is a Hyspec polymer sheet designed as an alternative to steel, stainless steel, aluminium, fibreglass (FRP/GRP), wood and other materials commonly used in a wide range of applications. Polymers are long chain molecules which give any products built using Plaztuff materials a memory resulting in high impact resistance.
Being super lightweight and exhibiting a balanced combination of stiffness, toughness, mechanical damping ability with good wear abrasion resistance and can be easily welded. Plaztuff is an inert material (ie; the molecular structure is full) and therefore will not rust, rot, corrode, get osmosis, or electrolysis even when sitting in salt water permanently.
THIS IS A PRODUCT IN HIGH DEMAND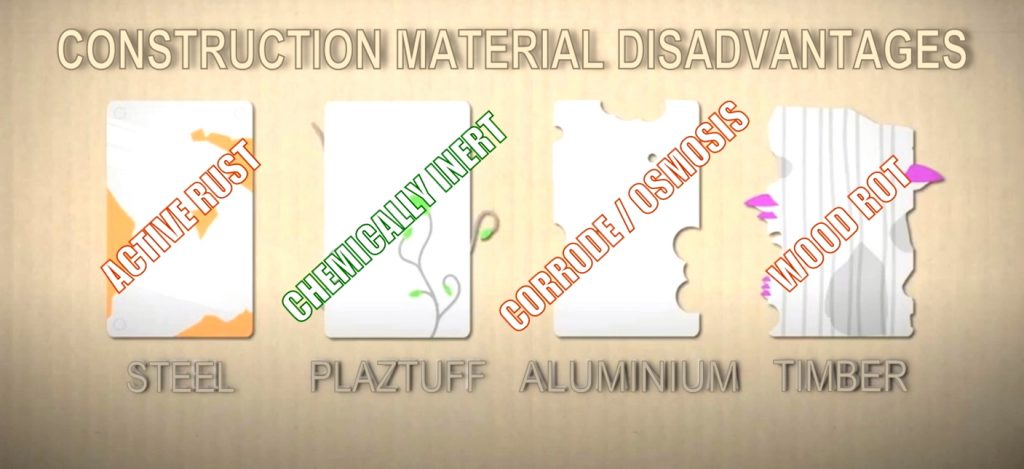 WHAT IS PLAZTUFF
Here is a product that has a high demand worldwide within the construction industry for multiple reasons
These are just some of the key points, and the rest are available on the LEARN MORE links. Take a look, you will not be disappointed